Land allows you to use the information available on a vector map to automatically create a track. It is a very simple function, but, to make it possible, the vector map you are working on must be "routable", that is, have network information that can be used for automatic route calculation. OSM and TomTom maps, for example, are "routable" maps, so it will be perfect for you to create tracks more easily.
Create a track with FastTrack
To create a track with FastTrack follow these steps:
1. Locate the point where you want to start, right-click and select 'New.. > Start new Track here'. A window will appear where you can choose the name, sport and colour for the new track, and the first point of the track will be created, and the track editing bar will be opened: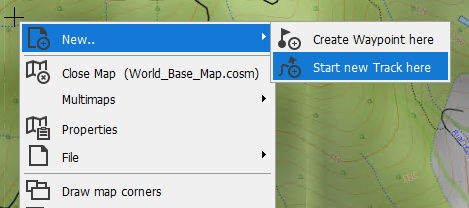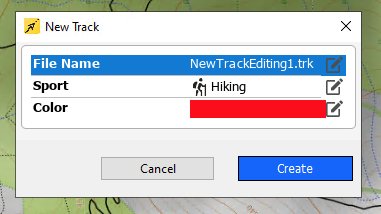 2. On the track editing bar, click on the 'FastTrack' tool button:

3. Next you will see arrows at each intersection. Each arrow indicates a direction to choose, select which path you want to follow at each intersection:

4. Repeat the same action at each intersection until you reach your destination:

5. It is also possible to draw the entire track at once by pressing the 'Control' key while selecting the destination. Land will calculate the fastest route and generate the entire track from your current position to the selected destination:



6. Once you're done, click the 'Finish Editing' button on the track editing bar.
FastTrack to here
During track creation, if you right-click and select the 'FastTrack to here' option, Land will try to automatically calculate the entire track up to that point, taking into account the map information (a routable vector map such as OSM or TomTom is required) or from other open tracks (if any):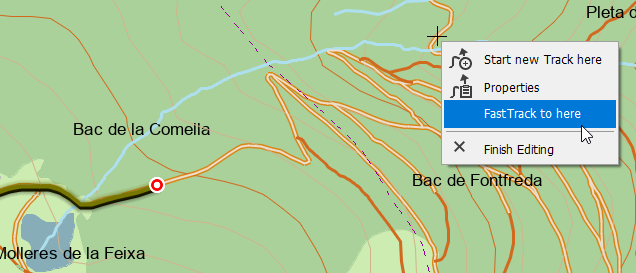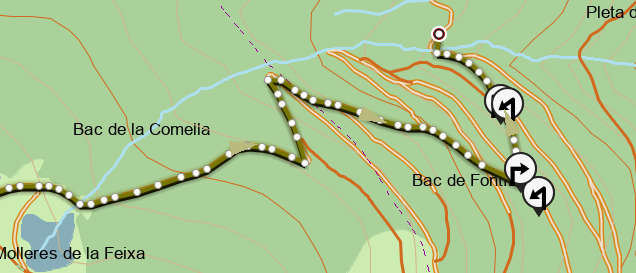 It is not necessary to have the 'FastTrack' tool activated.
If there is no routable map loaded, Land will try to load it (OSM, TomTom).
FastTrack over track (partial track copy)
With this tool you will be able to create new tracks following parts of other tracks as a reference, so you won't have to copy those parts point by point, or cut the other track to later merge it.
Using it is very simple, and it is not necessary to have a routable vector map.
Load the track or tracks you want to partially copy:

Open the track editor, and create a new track.
Add a point on the track you want to copy. This will be the start of the copied section:

Right click on the end of the section you want to copy, and 'FastTrack to here':

That entire section of the track will be added to the track you were creating:

You can continue to add points freely:

If you want to add another piece of track, simply repeat the operation. Add a point at the beginning of the section to copy, then right click and 'FastTrack to here':

FastTrack configuration
It is possible to configure various aspects of track creation with FastTrack. In 'Preferences > Tracks > FastTrack Edition' we can find:
Add maneuver points automatically. When doing FastTrack while holding down Ctrl or with 'FastTrack to here' option, the calculated maneuvers will be added to the map.
Allow streets in the opposite direction. One-way streets can be traveled in both directions.
Restrictions by type of road. Allow highways, tolls, dirt roads or ferries.