The 'Anchor' feature lets you specify a reference position on the map.
This anchored position will act as your current position, used to calculate the proximity data shown in the list of waypoints in the data tree, along with altitude.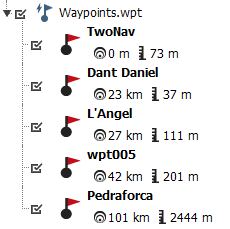 Thus, by selecting your reference position, you can quickly check the distance to each waypoint you have loaded.
The anchor also determines the re-centre feature. In other words, pressing the 're-centre' button will place you over the anchor. This is useful when exploring the map and you want to quickly return to a reference point (house, camp site, parking area, etc.).
Turning the anchor on/off
To anchor a position, just right-click on it and select 'Anchor'.
Just below it is the 'Unanchor' feature.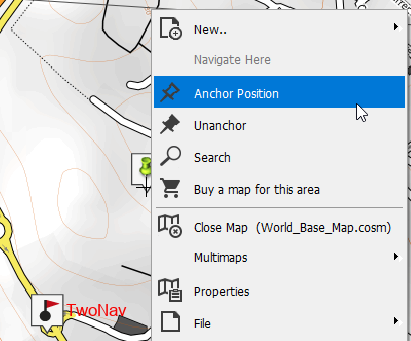 You can anchor any position on the map or a waypoint.
The Anchor feature is available in both Land and TwoNav.
In TwoNav anchor/unanchor is available via the Pin mode menu (long press at a point on the map).