NEW FEATURES
New full screen mode for map page. New button 'FullScreen' added to map window.
New UI behaviour for overlapped buttons of map page. Zooms, recenter and full screen buttons disappear automatically, and appear when map is tapped.
Graph can be configured to show different values: Altitude, speed, heart rate, cadence, power. This configuration will affect the Graph datafield, and also the graph from track properties.
New sensor datafields for mean and max values (Mean HR, Mean Cad, Mean Pow, Max HR, Max Pow). Also available for laps.
New setting to configure alarm sound from 3 different tones (Trail/Aventura)
New waypoint proximity alarm system, including popup when entering waypoint radius, and new settings section to configure it.
Battery % is now displayed when device is shutdown and connected for charging
Improved process of automatic calibration for barometric altimeter
Improved WiFi connection
Improved behaviour on map for zoom buttons and joystick (Trail/Aventura)
Datafield category 'Effort' has been removed, and its content placed section 'General'. Power datafields are only present in 'Sensors' category.
Audio settings simplified. Now only a general 'Volume' bar is present. Voice selection moved to 'AutoRoute' section.
QWERTY keyboard for Trail/Aventura
Improved datafield system so values are equal in datafields (while activity running) and activity properties (recorded track)
Recording interval settings simplified so now a limited values can be chosen for 'by distance' and 'by time'.

SOLVED BUGS
Abnormally long Time to Fix GPS position happening in some devices.
Unwanted re-start when shutting down device sometimes
Info on Lap Change setting not working
Not possible to add more than one lap manually
'Change destination' function keeps navigating when 'Free' is selected
SeeMe message appearing when changing destination during an activity
Distancia and Ascent are increased during pause
Apostrophe character not working correctly in passwords
Graph stops displaying points for some time
Other bug solving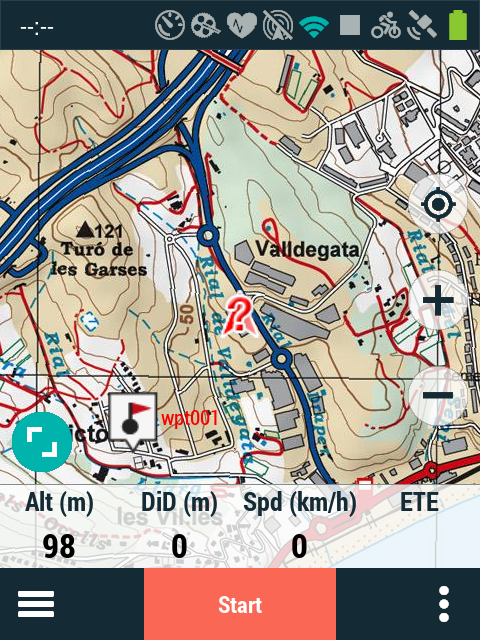 New Full screen mode