Land 8.7 version has been released:
Windows: 2019-07-15
Mac: 2019-08-12
New features
Improvements on the track editor:

New track points can be added over the same track that is being edited.
Track points can be selected without having to unselect the 'Add points' tool, just making double click on the track point to be selected.
When the editor is opened, now there isn't any tool selected.
Roadbook points are now created by first selecting the tool , assigning name and icon, and then moving the pointer to the desired track point and clicking on it.
Other minor improvements.

Start and End points of the tracks are now marked on the map.

New markers for online routes on map.

Some tools have been added to the properties window, allowing easy access to functions like Open track editor, Open roadbook editor, See graph, or Send track.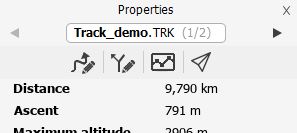 Open track from the GO website. In the page of any activity or route at go.twonav.com now there is an 'Open in Land' button that will start the software and open the file.
New online map with world ortophoto (Data tree > Online files > Online maps > World > Aerial_ESRI_ArcGIS.cwms).
Solved problems
Incorrect tools in the vector maps editor.
Wrong space distribution in the track editor's tool bar.
Accesses to Wikiloc and Geocaching are not listed as options to be added to the toolbar.
The 'Redo' tool is not shown except in the track editor.
Wrong altitude when creating track points over an other loaded track.
The Repair function is not working for devices connected by USB (only available for old generation devices like Anima or Ultra).
When hiding or closing an element from the tree, it stays selected.
GPX tracks generated in Land are not opened in Suunto's Movescount.
Other minor problems.