Improvements in the synchronization system with the GO Cloud. Synchronization is now faster and more reliable, and has more diagnostic tools.
Improvements in file scanning, achieving greater speed in large lists and with GPX files.
Improvements in the altitude data filtering system, avoiding fluctuations in this data.
Improvements in the calculation of the 'Slope' field, so that it is more stable.
New sports available when creating new profiles: Gravel bike, downhill bike, ebike, paddle surf, horseback riding, ski touring, others.
Also, the 'Activity Type' is now called 'Sport'.
Vector map layers are shown in maps list, so you can choose to show or hide them (currently the changes are not saved when map is closed).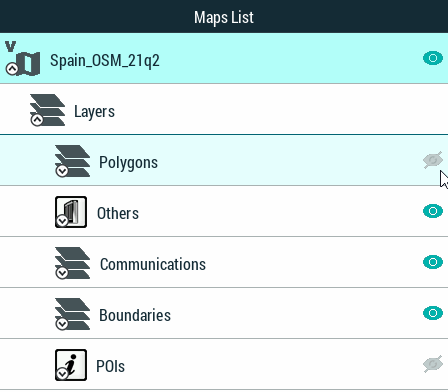 Improvement in the vector map scaling system. Now the lines will look better on devices with high pixel density (Cross, Terra, smartphones...).
New installation system for purchased maps.
Now you can install myTwoNav maps directly from TwoNav (App and Devices), without the need for a USB connection. Just go to 'Menu > Maps > Page menu > Install purchased maps' and choose the map to install.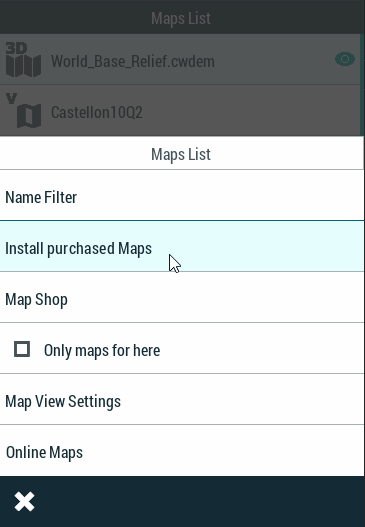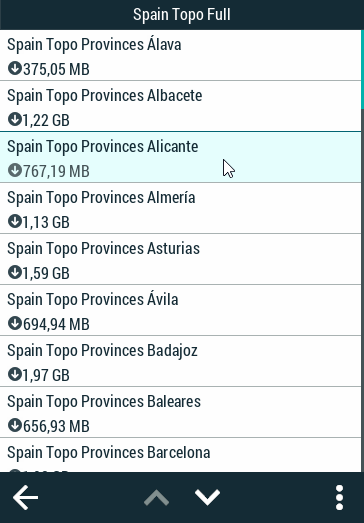 [Android] New 'Import files' function available from the list of maps and routes. This function allows you to select files from any accessible folder on the phone, and copy them to the TwoNav App folder so that they can be used.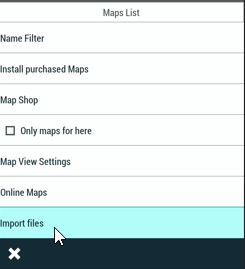 [Android] Fixed cases of incorrect recording of track points, giving forward/back effects and distance exaggeration.
[GPS devices] Auto power off system. By default, the device turns off after 15 minutes of inactivity, if it is not recording activity. Configurable from 'System > Screen and brightness'.
This protects from unwanted discharges, and protects the battery in case it is plugged in.
[GPS Devices] Option to connect to external GPS via USB. The function is found in 'Settings > System > GPS > Advanced GPS settings' and configures the USB port of the device to receive position signal from an external GPS (adapter cable and external power required).
Note: While this option is enabled, the internal GPS will not work, and the device will not mount when plugged in via USB to a computer.
[Terra,CrossPlus] Barometer setting adjustment to avoid fluctuations.
Other minor changes and stability improvements.