TwoNav products can use a wide range of maps.
Below we'll describe the different map types so you can find the ones that are best suited to your needs.
Maps can be divided into types using different criteria:
Raster/Vector/DEM
Topographic/Orthophoto/DEM
Online/Local
Personal/Official (TwoNav store)
Raster/Vector/DEM
Raster maps: These are simple georeferenced bitmap images. In other words, they are image files with coordinates assigned to them so they are shown in the proper location when opened with an application.
These files can even be the typical image formats (JPG, BMP, etc.) paired with a small calibration file (IMP), but it's best to work directly with formats that are specific to digital cartography, like RMAP.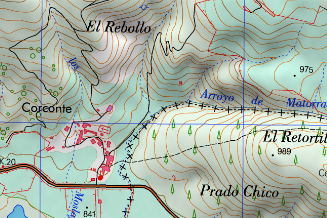 When a raster map is very large (such as for an entire country), these files can take up a lot of space in memory. Which is why TwoNav has developed a mosaic map system that allows breaking up a huge map into a mosaic of tiles so you can install only the parts of the map that you need (more info).
Vector maps: These consists of objects with their own properties, such as polylines, points or polygons that can contain information. For example, a line representing a street can contain information on its name, colour or terrain type.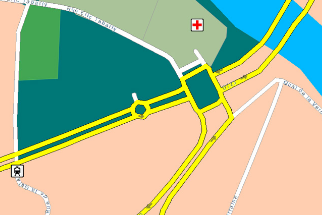 If this vector information is properly structured, the application can use it to calculate routes automatically, yielding what is known as a routable map (more info in Land, more info in TwoNav).
TwoNav's OSM and TomTom maps are routable vector maps.
DEM: These are Digital Elevation Models. They are actually a raster-type map, but they only contain information on the elevation of the terrain. This information can be used by the application to assign an elevation to a waypoint, to every point on a route or even to generate a three-dimensional image of the terrain.

If a DEM is loaded below another map, then the map can be represented in 3D.
Topographic/Orthophoto/Road
Topographic: Map showing the terrain, normally using contour lines, that can include all kinds of useful information on the area (paths, mountains, fountains, etc.). These maps are best suited to outdoor activities like hiking and mountain biking. They can be raster or vector maps.
Orthophoto: Aerial image of the terrain with no additional information. These are raster maps.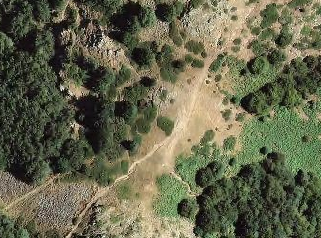 Roads: Map that includes specific information on roads and that is particularly suited for navigating cities. In general, these are vector maps. The TomTom maps are the best example. TwoNav's OSM maps could also be assigned to this category, though they are also topographic maps and their information on streets isn't as optimised as in the TomTom maps.
Online/Local
Online: Map that is not stored in its entirety in the device's memory, but that is downloaded in cells as you move around.
Land and TwoNav for smartphones can store these downloaded cells so that if you need them again for that area, you don't have to download them again.
Land and TwoNav have direct access to online maps for several countries and for the entire world (more info).
Local: Map that is completely stored on your device's memory, and that therefore doesn't require the internet to work.
Land has a tool for converting a section of an online map into a local map so you can use it when needed (more info).
Personal/Official (TwoNav store)
Personal: You can get maps from many different sources. You can create one with Land, download it from somewhere or get it from a friend. Our goal at TwoNav is for you to have the maps that best fit your activity, even if they're not the ones we offer officially.
Official: TwoNav has an extensive catalogue of maps. These are maps of proven quality that we have tested to ensure they work correctly in Land and TwoNav, so they're the ones we recommend for your activities. You can accss our complete map catalogue at www.twonav.com .