Version released for Windows.
New features
It is a 64-bit version, instead of 32. This allows a better use of the computer's RAM memory, speeding up the execution of heavy tasks such as generating maps.
This will be the standard version from now, leaving a downloadable 32-bit version for users who need it.
New distribution in the data tree.
Now the USB-connected GPS devices are displayed in a separate branch, and the 'Stored Files' and 'Open Files' branches have been merged into a single 'Files' branch.

In this branch 'Files' the elements are divided by type (maps, routes ...), and those that are open are shown.

In addition, each file type has a subfolder in which the 'stored' files of that type can be found, and opened with a double click.

New connection to the Komoot service. In order to use it, it is necessary to previously make the connection with your Komoot account from the settings at go.twonav.com .
Once established:


You will be able to see your planned routes from the data tree, and download those that are located in areas for which you have permissions in Komoot.

Your new activities that are uploaded to GO will also be sent to Komoot as Completed Routes.


Remarque

: Bientôt également disponible dans Twonav.

Accelerated scanning of stored files. Now the stored file folders in the data tree are scanned and opened much faster.
Added scale selector (maximum or current zoom) when creating map by selecting online map area.
Gadget 'More tools'. If there are toolbar buttons that do not fit, they will be grouped into a drop-down menu.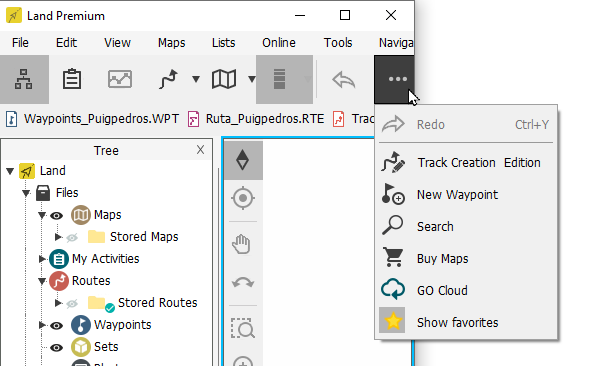 Closed GPX and BTRK tracks now show starting point on map (previously only TRKs showed)

Improved detection of new Garmin devices (Fenix, Edge ...)

Sending status reports over the Internet. Now when generating a status report, it will arrive to us automatically by the Internet. It is no longer necessary to find and attach a ZIP to the support request.

Recovery of opened files even in case of unexpected closure.

Video recording improvements. The flow and internal processing of the 'Capture Video' tool has been revised.

The objects of the MPV vector maps are displayed individually in the data tree, and can be searched by name from the general search engine.

New automatic renaming system for files with unaccepted characters to prevent conflicts in synchronization with GO.
Solved problems
Suunto connection does not work

DropBox connection doesn't work

Connection with FFCT does not work

Incorrect online map opening when opening from multiple folders

It is not possible to move points if you have the 'Add intermediate points' tool activated.

Other minor issues