TwoNav offers a large catalog of maps that can be purchased both from within the application and on the twonav.com website. But, if you have TwoNav Premium, it also allows you to open other maps that you have obtained or created yourself.
In the TwoNav App you can open maps in 2 ways:
From the maps list
The maps found in the application's maps folder will be listed in the map list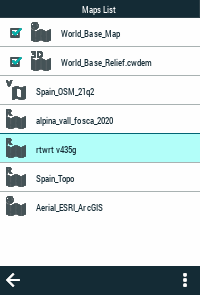 The location of this folder differs depending on the platform
Android: This article indicates which are the map folders for Android
iOS: The default folder for the TwoNav App.
These folders are the ones used when maps are installed with the TwoNav tools:
Maps sent from Land (via USB connection on Android or FTP-Wifi on iOS). From Land you can open your maps, and send them to the connected device.
Installation of maps purchased on the TwoNav website, from your personal space at twonav.com
Installation of maps purchased from the store integrated within the application.
You can also copy and paste map files directly into these folders (for example using a file explorer, or iTunes on iOS), and they will be displayed in the map list if they are in one of the supported formats (* .rmap, *. mpvf, * .vmap).
Important: maps with the * .rTmap extension are part of mosaic maps, and are not listed individually. We recommend that you use the rtmap files in their correct structure (see article). However, if you change the file extension to be * .rmap instead of * .rTmap, that map will appear in the map list and can be opened individually.
From other applications
This option is available for Android since version 5.0.5, and will soon be available for iOS as well.
If you have maps in other locations on your phone, you can find them with your phone's file explorer. When opening them, TwoNav will be offered as a possibility to open that file.
This way you can open maps even if they are not in the TwoNav application's own folder.