These are the basic steps we propose to start enjoying TwoNav during your activity.
A continuación la serie de pasos básicos que te proponemos para empezar a disfrutar de TwoNav en tu actividad.
1- Get GPS signal:
Make sure your unit has GPS signal before starting. You need to be outsides, with clear vision of the sky, and wait a bit until GPS icon in status bar turns into this:
TwoNav 3:
TwoNav 4:
2- Choose activity type:
Press 'Start!' button at the main page, and choose which activity type you want to make:
Track: Follow a previously loaded track file (TRK or GPX format)
Route: Follow a previously loaded route file (RTE format)
Place: Go to a place, which can be a preloaded waypoint, a chosen point on the map, or some coordinates, for example.
Historic: Repeat your latest destinations
Training: Set a time/distance to accomplish, or compete with a preloaded track with the TrackAttack function.
Free: Just go, no destination or objectives set, but your trip will be recorded too.
3- Choose the course:
If you selected a track or route, you will have to choose which of the preloaded files you want to follow.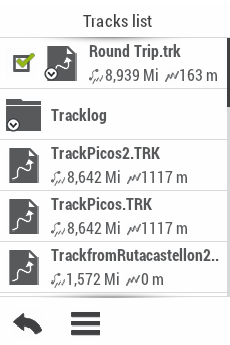 4- Preview:
Just to make sure you have chosen the correct destination. Press start!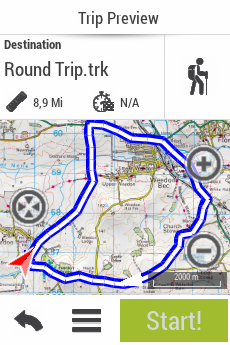 5- Enjoy your trip:
Time to go. If you selected to follow a track, it will be highlighted in blue and white so you can see it clearly.
You can see more data on the data pages, accessible from the main page or the physical button on device.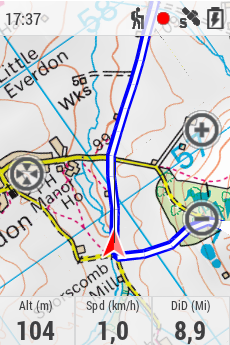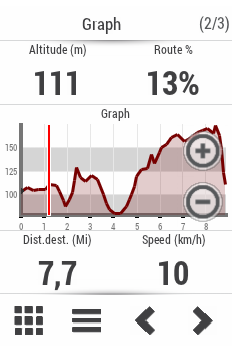 6- Finish:
When you have enough, finish your trip going to:
Twonav 3: 'Main menu > Trip Control'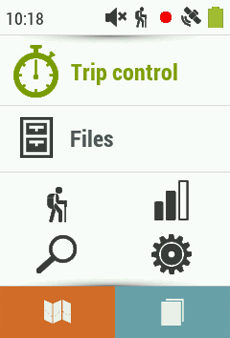 TwoNav 4: 'Control button'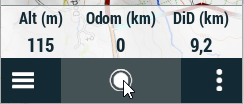 and pressing Stop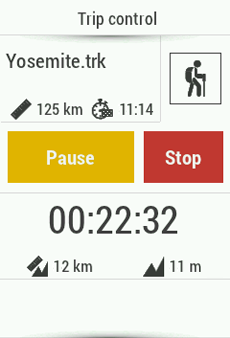 Note: In TwoNav Velo/Horizon you can access directly to this Control page by pressing the frontal 'Start' button.